Founded in 2013, Vector Artist Initiative facilitates partnerships between exhibiting artists and arts organizations interested in using artwork as an educational opportunity for community engagement.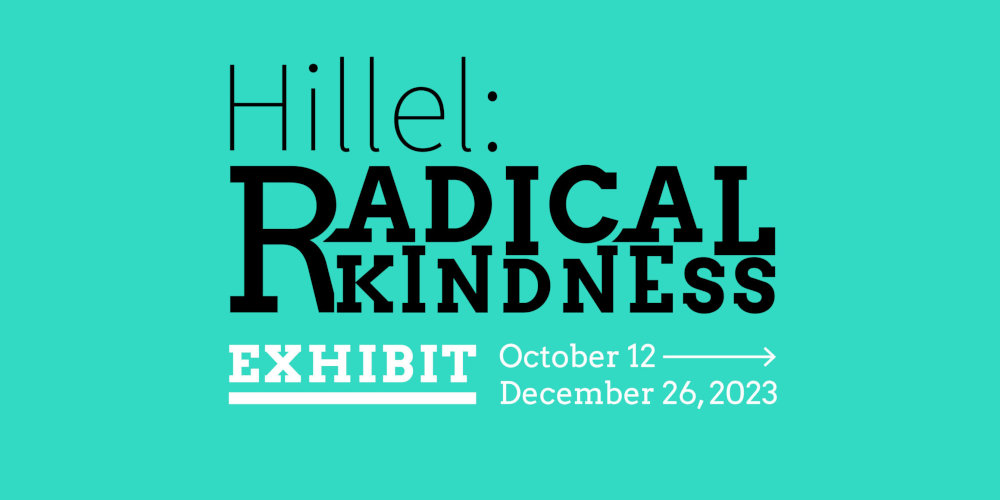 EXHIBITION STATEMENT
Misery and hatred are the products of a toxic mix of intolerance, supremacism, and an unwillingness to listen to what others have to say. When convinced of their own superiority, people lose the ability to respect others' ideas or ways of living, and feel they have the right to deny others the right to coexist in an equal way.
How different was Hillel's attitude! He drew more people toward him with his spoonful of honey than others did with their barrel of vinegar, showing radical kindness to everybody, including people who disrespected him, and changed them for the good. Hesed (kindness), like Gevurah (strength), is one of the mystical ten Sefirot, the attributes of HaShem. In this world, we need Gevurah. But we need Hesed even more. Striving for social justice through Hesed is one way of doing Tikun Olam (repairing the world).
For several months earlier this year, four artists, Robin Atlas, Shoshannah Brombacher, Nancy Current and Karey Kessler, read and studied together Yitzhak Buxbaum's book, The Life and Teachings of Hillel. Brombacher, who is also a recognized maggid (storyteller and teacher), was already very familiar with Hillel and had recommended the Buxbaum book to the group. For Atlas, Current and Kessler, Hillel and his teachings were a new experience and their work in this exhibit is a direct result of their group study. Most of Brombacher's work in this exhibit was created from her earlier study of the same subject matter.
The genre of art in this exhibit is known as "visual midrash"."Midrash" means "commentary," and visual midrash is art which is commentary on Biblical or other texts. Visual midrash offers a fresh approach to teaching and learning, where an artist's visual interpretations provide viewers with new ways to understand concepts of universal importance to humanity. It can make difficult ideas more accessible and provide a springboard for public discourse.
The precursor of modern visual midrash was the ancient use of imagery to tell stories and commentary from Torah and prophets, on walls and floors of synagogues in the Middle East almost 2,000 years ago. One of the earliest known sites is the Dura Europos synagogue in Syria (244 CE). For several hundred years, synagogues in the holy land were fully decorated with paintings and mosaics of biblical stories which pre-date Christianity and its Byzantine mosaics. The rabbis obviously understood the value of this artwork for their communities. Since the 1970s visual midrash has had a resurgence in popularity and has become an important genre of Contemporary Jewish Art.
Robin Atlas
Shoshannah Brombacher
Nancy Current
Karey Kessler
Robin Atlas
Robin Atlas is a visual artist, printmaker, fine arts consultant, and curator whose work has been exhibited throughout the United States and Canada.  She creates contemporary visual midrash – the art of speaking to halachic, biblical, and other sacred Jewish themes through one's artistic creation — adding her unique voice and vision to the ever-evolving anthology of commentary.
Her mixed media pieces combine dyed, manipulated, and collaged fabric and other fibrous materials which have then been deconstructed and embellished with hand and machine embroidery, paper, paint, beadwork, trim and other elements.
Robin is a co-founder of Vector Artist Initiative, a fellow of Jewish Art Salon, and President of the American Guild of Judaic Art.
Her studio is in a former 1920s dance hall in the Ballard neighborhood of Seattle, WA.
Shoshannah Brombacher
Shoshannah Jeanne Brombacher (1959) is an author, artist, scholar, and maggidah (ordained spiritual guide and storyteller) from Amsterdam, The Netherlands. She lives currently in Berlin (Germany). Brombacher holds a Ph.D. from Leyden University (Holland) in Jewish studies and medieval Hebrew poetry. She taught and researched in Leiden, Amsterdam, Berlin, Jerusalem, and New York. Her worsening hearing loss forced her to shift from the academic world to her life long passion, art. The teachings of the Chassidic Masters fascinated her since she discovered them in her father's study long ago. Her themes include Jewish lore and legends, Chassidism, travels (the Venice murals), social justice (poetry of Nazim Hikmet Ran, OWS), classical music, multi-lingual poetry, and custom art (weddings, kaddish, bar/bat mitzvah, etc). She participated in and curated (inter-)national art exhibitions and won several awards and grants for her work, which spread over five continents. Brombacher is the former president and current vice-president of the American Guild of Judaic Art and has an art-blog: https://jewishart.org/blog/blog-archives/ She contributes regularly to other magazines, blogs or calendars. Her websites are: www.absolutearts.com/portfolios/s/shoshannah and https://absolutearts.academia.edu/Brombacher. She is on Facebook.
A prolific author/illustrator, Brombacher authored, co-authored and/or illustrated about thirty books and is currently working on a collection of illustrated stories of Rabbi Hillel in addition to the earlier published On One Foot. The Life of Hillel (D. Zaklikowsky, illustr. S. Brombacher). One of her most notable collections of Chassidic stories is For Strangers Passing Through (S. Brombacher, TotalRecallPress 2020).
Nancy Current
Nancy Current, co-founder with Robin Atlas of Vector Artist Initiative, is a visual midrash artist, interpreting thought and writings from Torah, midrashim and other Jewish sources. She adapts painting, drawing and printmaking to the mediums of glass and paper, creating work in which the images relate technically, visually and conceptually to make an interpretative statement. Her intent is to facilitate community discussions about subjects of importance to Jews and humanity in general. In addition to exhibiting in and co-curating VAI exhibitions, she has exhibited, taught, and lectured nationally in Canada and England. She is a fellow of the Jewish Art Salon and treasurer of the American Guild of Judaic Art.
Karey Kessler
Karey Kessler (b. 1974) creates map-paintings that contain ideas about physical places, but also spiritual, internal, and temporal spaces as well. She received her BA in Fine Arts and Anthropology from the University of Pennsylvania and an MFA from the Pennsylvania Academy of Fine Arts. Her work is included in the books: The Map as Art (Princeton Architectural Press, 2009), by Kitty Harmon; From Here to There: A Curious Collection from the Hand Drawn Map Association (Princeton Architectural Press, 2010); The Embodied Forest (ecoartspace, 2021); and Le Paysage est une traversée (Editions Parentheses, 2020). Her work was also included in Orion Magazine (2021), Lilith Magazine (2022), The Magazine of the Association for Jewish Studies (2022) and Vrklempt Magazine (2023). In 2022 Meta Open Arts commissioned her to create a mural at the Meta Reality Labs (Redmond, WA). And in 2019 she participated in the SciArt Initiative Bridge Residency. Kessler has shown her work widely, including exhibits at the Weatherspoon Art Museum (NC), the Katona Art Museum (NY), and the Bellevue Art Museum (WA). She is currently a member of Shift Gallery in Seattle, and her work can be seen in the flat files of the Pierogi Gallery (NYC).
Hesed Statement:
One of Hillel's main teachings is that people should do mitzvot and deeds of Hesed (loving kindness) both as individuals and as communities. He taught: "Do not separate from the community." —Avot 2:5.
According to Yitzhak Buxbaum, a Hasid like Hillel is motivated to stay close to the community by the desire to influence others for good. Buxbaum goes on to state that the meaning of Hillel's saying "do not separate" goes deeper than the benefits of community. It implies an awareness of the mystic unity of people.
The concept of a mystic unity of people, and I would add, a mystic unity of everything, inspired the three paintings for this show. And Hesed, which both a feeling (loving kindness) and an action (good deeds) is the foundation for how we can get along with others and repair the world.
My paintings start with watercolor to make an assortment of dots, lines, and pools of color. Then, like a cartographer, I label areas — not with real locations, but where the marks and colors evoke feelings, thoughts, and memories. I kept a running list of words as I read "The Life and Teachings of Hillel" such as kindness, love, and compassion and phrases such as "mystic unity" and "a foundation of all foundations."
All of my paintings play with the fact that the Hebrew word for 'the Place,' ha-Makom, is also used as a name for God. "Here" can be a specific, known physical place, or it can be an infinite conceptual space—a spiritual realm— an underlying structure of our world.